Search ALL of Heavy Harmonies:
Search specific categories:
THE Hard Rock and AOR Reference on the Internet!
Bands: 9880 CDS: 23588 Songs: 279848
#s A B C D E F G H I J K L M N O P Q R S T U V W X Y Z
Compilations Soundtracks Tributes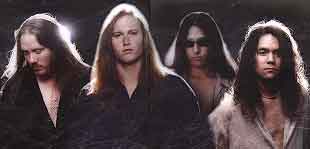 Title:

Crunch

(click on Artist's name above to return to artist's main page)
Average Rating:
83 / 100
(22 ratings)
Category: Hard Rock
Year: 2004
Label: Kivel Records
Catalog Number: KR022


Personnel
Jamie Rowe
Lead Vocals
Vic Rivera
Guitars, Drums, Backing Vocals
Scott "Riff" Miller
Guitars, Backing Vocals
Scott Novello
Bass, Backing Vocals
Tracks
| | | |
| --- | --- | --- |
| 1. | Breaking Stride | |
| 2. | Crunch | |
| 3. | Faith | |
| 4. | Without A Moment's Notice | |
| 5. | Tougher Than It Looks | |
| 6. | When In Rome | |
| 7. | Long Gone | |
| 8. | The Thin Line | |
| 9. | Question | |
| 10. | Freedom | |
| 11. | This Time | |
| 12. | Last Call | |
If you see any errors or omissions in the CD information shown above, either in the musician credits or song listings (cover song credits, live tracks, etc.), please post them in the corrections section of the Heavy Harmonies forum/message board.
The music discographies on this site are works in progress. If you notice that a particular AdrianGale CD release or compilation is missing from the list above, please submit that CD using the CD submission page. The ultimate goal is to make the discographies here at Heavy Harmonies as complete as possible. Even if it is an obscure greatest-hits or live compilation CD, we want to add it to the site. Please only submit official CD releases; no bootlegs or cassette-only or LP-only releases.
EPs and CD-singles from AdrianGale are also welcome to be added, as long as they are at least 4 songs in length.
---
Existing comments about this CD
From: MJ (Marla)
Date: May 9, 2004 at 12:29
The guys have REALLY out-done themselves this time!!! Heavier, rockier, deeper....just unbelievable!!! Jamie's vocals are in rare form...and the backing harmonies give me chills!!! Favorite tracks...'Without A Moment's Notice', 'The Thin Line', 'This Time', 'When In Rome'......oh heck....all of the tracks bring something special, new and exciting to the table!!! For ME....this is THE album of 2004!!!
From: Paula Hoefler
Date: May 9, 2004 at 23:45
This is truly an awesome CD and by far the best these guys have ever done. I am privileged to know Vic Rivera and I am very excited for the band as a whole. If you don't buy this CD, you are truly missing out on talent.
From: AOR freaky
Date: May 10, 2004 at 5:16
Seems to be great ! I have to buy it immediately !
From: James
Date: May 11, 2004 at 13:12
ok, not going to give a long rave about the cd. I think it is great. Wouldn't expect anything less from this band. Jamie's vocals are amazing. Vic's writing and playing are wonderful (let's not forget he not only rips on the guitar but is very solid behind the drum kit) The bass is solid and sets the groove perfect then we have Scott----a welcome addition to my knowledge of guitar names. Scott lives up to his billing and pulls out some amazing stuff. only a couple of weak spots on the cd but whe
From: James
Date: May 11, 2004 at 13:14
Cont. ok, not going to give a long rave about the cd. I think it is great. Wouldn't expect anything less from this band. Jamie's vocals are amazing. Vic's writing and playing are wonderful (let's not forget he not only rips on the guitar but is very solid behind the drum kit) The bass is solid and sets the groove perfect then we have but when everything else rates 100% the two low spots still rates 85%, much better than a lot of band's best song's on albums now-a-days. One last comment--the riff
From: James
Date: May 11, 2004 at 13:15
Cont: One last comment--the riff's in The Thin Line sounds influenced by Zakk Wylde. anyone else get that feel?
From: Jack Black
Date: May 14, 2004 at 19:41
I have down loaded all mp3s. To be honest, it sounds like the songs from this CD all could be on Feel the fire. This is a band that keeps repeat the last album! The songs I heard sound average. I think in the song CRUNCH, after the first chorus, it has the same guitar riff as Feel The Fire! IDENTICAL! I don't plan on buying this over rated bliss of music!
From: Peter Drums
Date: May 17, 2004 at 0:58
Hey Jack, I agree with you on average songs! One thing I give them credit on is, they have banged out 4 CD's in 4 years! I think what seperates them from other aor bands is, a great studio engineer! A great recording can make a band sound like a million bucks! But over all, songs are decient. Nothing to rave about...
From: thelostdj
Date: May 18, 2004 at 18:46
The potential is there...the talent is there...the production is there....the songs are not. I like AdrianGale. I think thier best is yet to come. But with just a few 'ok' tunes on this one, it'll be gatherin dust on my shelf.
From: Crankypants17
Date: May 19, 2004 at 15:07
Your right they break into the FTF riff.Sounds to me that was done on purpose though,the way they go into it and then back into crunch.I've heard bands do that before.As for this album sounding like the previous ones. Well the same album it is not.Same sound? YES.What do you expect,it's the same band.I personally like the new album.Hey,everyone is entitled to thier take on something.My take is,I have a great cd to listen to this summer.Melodicrock gave it a 97.Hard to argue with review like that
From: music in me
Date: May 19, 2004 at 21:49
Hey cranky, why would a band do a repeat of a riff? Sounds like a lack of new ideas! I also agree with the same album thory! Look at Skid Row! The 1st CD & 2nd CD are a night and day change! Still the same band! As far as melodic rock, I heard he will give a band a good review if you line his pockets with green paper! Check out the AG review at www.aordreamzones.com He gave the CD an 80/100!!!! Peace
From: James
Date: May 19, 2004 at 22:14
how can you trust a review from aordreamzone when in his review of the first song he states and i quote 'right away on the opening track 'Breaking Stride' its a totally brilliant track with chucky guitars catchy chorus in the Harem Scarem style, very melodic and infectious, good start' The first song is Breaking Stride but it is an instrumental, it has no chorus. how close did this guy listen before he reviewed it????????
From: MJ (Marla)
Date: May 20, 2004 at 0:39
OMG! I just saw this, before it gets out of hand may I say that yes, there's a refrain to the FTF riff in the song 'Crunch', for just 3 bars! Countless artists have briefly referenced their popular earlier work; it is hardly indicative of a 'lack of ideas' (See Dream Theater, Danger Danger,etc.) Bottom line: if you like it, you like it; if you don't, you don't! We're all entitled to our own opinions. These days we're ALL the underdog with this type of music: let's keep infighting to a minimum.
From:
Date: May 20, 2004 at 1:21
Id rather listen to a review from Melodicrock then AOR DREAMS. Also,every other site i have read reviews on the new album love it just as much as Melodicrock.
From: Crankypants17
Date: May 20, 2004 at 12:30
hey man,80 out of a 100 isn't a bad review in my opinion. There are alot of bands on his site that receive an 80 and he speaks well of. So either he is consistant that a 80 from him is a good review. OR he is a hypocrit as he gives it a good rating but talks it down. Either way his credibility is lacking. If he gave it a 60 THEN you would have a bit of a point, MAYBE.
From: Crankypants17
Date: May 21, 2004 at 10:10
hey...what happend to MJs post she left the other night in response to my post to her? I was going to respond, but was too tired. Now they are both gone. What gives?
Heavy Harmonies Owner
From: Dan
Date: May 21, 2004 at 11:30
Some of the comments degenerated into namecalling, so I removed them, as well as the comment that precipitated them.
From: Crankypants17
Date: May 22, 2004 at 1:37
I can respect your take on that Dan. With that same sentiment though, Don't you think you should take down the post making claims that melodicrock runs a unethical review system, by the claims made above that he gives good reviews in exchange for money. I would think that such a claim, that is obviously ones speculative opinion should not be entertained in your open forum.
From: Jack Black
Date: May 22, 2004 at 5:34
James, even an instrumental has a chorus! What is a CHORUS? A chorus is the hi light or climactic section of a musical piece. This section usually repeats several times in the orchestration! So does BREAKING THE STRIDE have a chorus? Just ask AORDREAMZONES! They are spot ON!
Heavy Harmonies Volunteer
From: Whiplash1972
Date: May 22, 2004 at 7:42
Guys, there is thread dedicated to AdrianGale over in our message board area; why don't you come over, register, and continue your debate there? I would LOVE to see your response to a coupla questions I have for you Crankypants17.
From: T-Bone
Date: May 22, 2004 at 10:01
It's pretty sad that this day and age a band comes along and releases an album that could blow you away and all some of you can find to complain about is there's a guitar riff that sounds similiar to another album. First off, there's only so many frets on a fretboard and only so many combinations of notes before something starts to possibly sound similiar to something else. Personally, I'd say just enjoy this rocker and quit the stupid fighting over something so tedious. This CD is an easy 9/10
From: Crankypants17
Date: May 22, 2004 at 11:17
Well said TBONE!
Heavy Harmonies Owner
From: Dan
Date: May 22, 2004 at 14:06
Well Crankypants17, even if what 'music in me' wrote is unpopular, it is still just an opinion about a 3rd party. I am not going to police comments like that, even though I personally disagree with that person's opinion. If someone came here and said 'Kivel Records SUCKS!' and gave reasons why, they would be entitled to that opinion, and others would be free to rebut it. That's the point of open opinion/review commentary. However, when comments get off-topic, flaming between posters, and filled with profanity, yes, I step in when I can and delete the offending comments. There are no hard and fast rules; it's a judgment call as to what steps over the line...
From: Crankypants17
Date: May 22, 2004 at 14:28
Hi Dan Like i said,i can hear ya on your reason for wanting to keep things nice.Thats cool,and I dig that.Now your right,someone can say another sucks.Thats their right to express thier dislike OR love for a person,website,company band etc.However making a accusation that another site makes good reviews based on 'lineing their pocketcs with green paper'as the post said.Well that is hearsay,and borders on inuslting AND slanderous statements.Something you said you would not let posts deginerate to
From: Crankypants17
Date: May 22, 2004 at 14:31
just to state dan. I would equally defend you the same way as i have for melodicrock or any other site that exsposes people like us to new bands.
From: thelastdj
Date: May 22, 2004 at 15:33
Don't ya just love it!!LOL...so serious...about something so trivial. Come on guy's...We all love great music...some like chocolate and some vanilla...so what!! We're all in this together...really! What else are we gonna do?....AOR melocic rock is the best music in the world today....if you or I wanna bitch a little then so be it. But the bottom line is....give me the music that lift's me. If it get's your rocks off...great!! I accept that. Long live Rock n' Roll. But let's keep the conversation
From: thelostdj
Date: May 22, 2004 at 15:36
open! I love to read your comments!!
From: Crankypants17
Date: May 22, 2004 at 16:06
Well said DJ
From: monk
Date: May 23, 2004 at 11:02
this sucks big time. i loved reprogramed but this is AOR bubble gum, not a single hardrock cranker on the cd!
From: Andrew McNeice
Date: May 23, 2004 at 22:05
I must thank the person who made me aware of this thread, as I am not one to lie down and let some "anonymous" poster talk shit and slander me without getting my right of reply. I think it maybe time to address this issue via my site directly – so look for a frontpage write up shortly – it will go nicely with some other shit I have to get off my liver. As for these accusations of taking cash for reviews – what utter utter shit. No-one – I don't care who – stays in business if that's the way thei
From: Andrew McNeice
Date: May 23, 2004 at 22:07
Ooops....I've got to limit my speal...ok, read the full version of my reply on my site shortly. But - a little more - The suggestion that I would base my reviews around anything other than my honest take on any given CD is such bullshit. I have never ever taken money – not even 1 cent - in return for any kind of favoritism in my reviews. If that was the case how long could I stay credible and/or in business generally?
From: Andrew McNeice
Date: May 23, 2004 at 22:09
Part 3 - And just how would I get around the soundbytes that I feature on my site – for EVERY release?? And what of my message boards and interactive review sections where people openly talk about each review?? Downloading the soundbytes immediately confirms if my review is accurate or I am full of shit. Want to know the truth? I've actually LOST sponsorship money because of my honest and forthright reviews! And furthermore, Kivel have never been a sponsor of my site. How about that?
From: AOR freaky
Date: May 24, 2004 at 3:53
Dear Andrew, I really support you in this case ! I know you're honest and we should all be glad that there is a website like yours : the best on the net !!! So people, let us all support people like Andrew and also Dan here, and all the guys and girls supporting our kind of music ! It's thanks to them that our genre (if it is pure AOR, melodic hardrock, pomprock, melodic metal, progressive metal, symphonic stuff, sleaze, glam etc.) are still alive and kicking. Without 'em, no sign of our genre.
From: JAFO
Date: May 24, 2004 at 4:19
Common sense will prevail concerning Melodicrock.com; whoever Music In Me is, that person should be ashamed of him/herself for making a statement like that. If you are going to make a slanderous statement about a specific person/organization - based on some ridiculous speculation gotten from who knows where - why don't you have the moxie to post your true name, or at least have the decency to apologize publicly for having made such an irresponsible post? Stuff like this is truly disheartening.
From: Bad to the bone
Date: May 24, 2004 at 5:49
Guy's this is about AdrianGale's CRUNCH! Stop the babie sh-t! You have to have thick skin to be in the music biz!If I said I heard Jon Bonjovi was gay, I hope to god he wouldn't start to cry! For the record, Crunch is not bad. I think AG did a good job!
From: Rycheage
Date: May 24, 2004 at 22:47
I haven't heard this yet, but the reviews are awesome so I will be getting this, regardless of what some people have got to say about it. I got involved with this site because I LOVE melodic hard rock and metal (in addition to prog). But this baby sh-t has got to go. 'Music in Me' is entitled to his/her opinion about the CD and the CD only. To slander another site is ludicrous and stupid. Especially with no proof. This site should stay about the music and lay off each other's opinions.
From: TIM (2)
Date: June 1, 2004 at 6:08
And so say all of us. This is really storming stuff, and I'm glad they really worked on the production as that was the only real let down from 'Re:Program'. I know this is not exactly Megadeth but is still slightly heavier than I'd normally listen to, but is such high quality you can't dislike it whatever your tastes.
From: jack
Date: June 2, 2004 at 5:30
Not exactly winger or dokken but they can also produce some decent melodic hard rock. This album has got to be the best in this year. Can't belive that hard rock/metal is back.
From: OZ
Date: June 2, 2004 at 16:33
Hey Jack, why don't you post 4X LOL... This CD is to light! The balled sounds like the band AIR SUPPLY! I'm not saying it's not good, it's just not tough enough for my taste! Over all, Chrunch is way over rated! SORRY Ladies & Germs!The great OZ has spoken!
Heavy Harmonies Volunteer
From: Whiplash1972
Date: June 2, 2004 at 16:57
Pay no attention to the man behind the curtain...this is one of the best releases of 2004 so far. If you don't have this one, head over to http://www.nehrecords.com and order it pronto. As per usual, AdrianGale offer up some of the best melodic hard rock you'll ever get your hands on, with 'Faith', the VERY Def Leppard-esque 'Without a Moment's Notice', and 'The Thin Line' being my personal faves. Karma is a cobra...... F.U.J.K.
From: Crankypants17
Date: June 3, 2004 at 0:57
I agree. One of the best releases released so far this year. Heres to the new VH.
From: Salty Dog
Date: June 4, 2004 at 7:11
I have been a fan of AdrianGale since Reprogramed. Have to say, I'm very disapointed to see that the band has not updated their site! This is a band that proclaims they have one of this years best CD's but neglects to feature the new guitarist in the AdrianGale web site. I'm sure Scott is wondering what is up also! This should be a PRIORITY BOY'S
From:
Date: June 4, 2004 at 17:17
From a post on a thread at the AdrianGale messageboard this issue is supposed to be rectified shortly so it looks like they are aware of it and are working on it.......here's hoping that it will happen within the next week or so!
From: dckiss
Date: June 4, 2004 at 18:10
This is by far their best album. Great songwriteing, Great Production, Great Performance....As for Andrew McNiece. Upstanding is all I can say the comments about him are pure rubbish. Best Site for news on the net run by a true class act!!! Support all great sites that pertain to this kinda music.
From: MJ
Date: June 10, 2004 at 6:47
What a great CD this really is. The production is excellent and the songs very catchy. it is great that bands still rock like this, who cares if it is regarded as 80s music! buy it
From: MJ (Marla)
Date: June 10, 2004 at 8:49
LOL...ok MJ....not only do we share the same name, but the same taste in music!!! I have to agree...GREAT CD!!!!
From: MJ (Mays)
Date: June 13, 2004 at 3:32
How bout that, another MJ! I beg to differ! I think Crunch is not crunchy enough & the CD cover is silly! Talk about a dumb weighter!LOL... Hopfully the next CD will hold some weight in the crunchy rock world....
From: MJ (Marla)
Date: June 13, 2004 at 10:06
Heh heh....well, y'know what they say about opinions there, 'MJ'. We've all got 'em!!! Apparently 'CRUNCH' carried enough 'weight' to be featured on The Classic Metal Show last night....with a great interview with Mr. Vic Rivera! And that show is listened to by hundreds of thousands of people, and will be repeated Tue. 6/15 1-7pm....so we shall see! IMO....great CD...every time I listen to it, it just gets better and better!!
From: MJ (Mays)
Date: June 13, 2004 at 14:24
Marla, You have not only bad taste in music, you also have bad taste in MEN! Vic looks like a little troll! hehehaha!
From: Marla
Date: June 13, 2004 at 14:45
Oh please!!! Nowhere is Vic's physical appearance mentioned in any of my comments....OR my taste in men. This area is for comments about the CDs...... Got a problem with me.....come on over to the message boards, and we'll discuss it there,'MJ'. This isn't the place for it...
From: MJ (Mays)
Date: June 14, 2004 at 0:27
Marla, I have no problem with you or your opinion. You are intitled to that and so am I!!! I have seen Mr.Vic in pic's. This is my opinion!.. I will travel to no unknown message board to have a spiting match with you! Thank you for the offer!... I just got a copy of TNT's latest CD! Now this is a CD!!! Kicks Gale's Crunch (((((((to))))))) the SEA!!!
From: THEO
Date: June 21, 2004 at 2:28
THIS CD REMINDS ME OF THE PARTRIDGE FAMILY :O) GREAT CD!
From: MJ
Date: July 1, 2004 at 15:37
Fucking class!
From: Declan Byrne
Date: July 3, 2004 at 5:06
BUY THIS CD, IN FACT BUY ALL THEIR CD's Adriangale are fantastic
From: Mon Man
Date: August 26, 2004 at 18:35
I've heard that the guys in AdrianGale don't own the band name. Anyone have the answer to this? I was told that Kivel record owns the name. Oh well,
From: Geoff
Date: August 26, 2004 at 20:58
Wow, this one stirred up a debate, didn't it? I personally think it is a great melodic hard rock CD but not quite the opus many make it out to be. 'Without a moments notice' and track 6 onwards are all killer pieces of melodic hard rock. I love 'em all, especially 'This time'. Although I really like ALL the tracks on this CD, 'Crunch', 'Faith' and 'Tougher than it looks' are a bit standard for me. Overall, looking at it like this, I just realised it is an excellent release! Great CD!
From: Cast_a_pico
Date: August 26, 2004 at 22:26
In response to Mon Man - Yes Adrian Gale is pretty much a studio corporate band. The label does indeed own the name Adrian Gale. From what I hear, Jamie Row is a hired gun. Kivel paid for his services then sent him on his way. Nevertheless, they do a good job in the studio...
From:
Date: August 30, 2004 at 9:38
Sooo Kivel owns the name AdrianGale? Might as well call them the Monkeys. I hate Kivel records, however I like Adriangale. Good music...
From: JAFO
Date: September 8, 2004 at 1:57
I thought there was a forum for stuff like this: the Flamefest or Labels threads, maybe? Focus in this site area should stay on whether or not people like the AdrianGale. Seems many posters here DO like this band but have a big problem with the label. It might just be me but I'd bet that label/personal gripes would be much better served on those boards, plus over there it is fun as all get-out to read the back and forth exchanges! So do it there. Just my 2 cents, don't wanna instigate anything!
From: Rycheage
Date: October 4, 2004 at 20:16
This is bombastic hard rock at its best. 'Crunch', 'The Thin Line' and 'Tougher Than It Looks' absolutely rock. Who cares if Jamie Rowe is a hired gun? Hire that gun again and again if they're going to release great stuff like this. Just exquisite stuff here. Highly recommended.
From: tonikki
Date: December 23, 2004 at 12:56
their best produced cd.the best band since 1991.no new band since then has their class.everything is ok:songs,production,cd art,big chorusses,greaat and very personal voice,the instruments are played in the fine way(not overplayed),and the most important a perfect attituded of melodick hard rock lovers.they don´t pretend to be great....and that´s the reason why they are so great
From: Mugman
Date: January 5, 2005 at 0:01
Yes another great release by AG. It a shame its not 1988 and on a major label, these guy would have been BIG man! I heard through the grape vine that Kivel Records operates out of his mother's basement. You could have fooled me. My hat goes off to KIVEL and the boys in AG....
From: Rock Dog
Date: February 14, 2005 at 4:30
In 1999 the unknown band Adriangale made their live debut performance (OPENING UP FOR WARRANT) at the Birch Hill Entertainment Complex - in Freehold New Jersey. Featuring: AJ Fedz, Dino Castano, Ed Campbell & Vic Rivera. After a dispute with the label 'KIVEL RECORDS', AJ & Dino dropped the label and continued. In 2002, AJ and Dino formed the band SNAKERYDER, and released their Debut album on Z Records September 6, 2004. These photos have never before been published until NOW! CHECK THEM OUT @ ht
From: Rock Dog
Date: February 14, 2005 at 4:31
http://www.snakeryder.com/Original_AdrianGale_PICS_1999_Warrent_Show.html
From: Swriter
Date: March 4, 2005 at 21:17
great production, great music, but I am missing the boat for some reason, I love the new harder stuff like TNT, JSoto, JChristian, etc. this one is just good and not a repeat player for me, not sure why I do not get this one.
From: Aussie Dave
Date: March 8, 2005 at 16:34
What a great album. These guys have gotten better with each release. Some fantastic songs on here, but as a whole album it really works. Not a dud track on here. Without a Moments Notice is a great ballad and my fave two tracks on the album are Long Gone and The Thin Line. My only gripe is that on some of the guitar solo's, the sound is a bit tinny. With a tad better production, this would be a 10/10. But with a little room for improvement, i give it a 9/10...
From: chocularok
Date: May 16, 2005 at 21:38
Guess I'm in the minority on this one...I've got all their cd's & this one just doesn't do it for me. It's not that it's a bad disc. The music is good, production is top notch...it's just that none of the songs are memorable like the ones on "Reprogram" (which is my fave). Again, worth picking up if you're a fan, but not as good as their others.
From: swriter
Date: August 26, 2005 at 0:08
i forgot to come back on this one, my first post was luke warm, since then, this thing has took life in my 6 changer in the car and not left, great hard rock, from start to finish, wonderful!!!
From: headbanger4life
Date: October 25, 2005 at 22:30
Man, these guys are fantastic. I loved Guardian, but I'm actually liking AdrianGale even more. I really didn't hear a "bad" song on this one. This is a band that is keeping melodic hard rock alive and kicking.
From: juan carlos
Date: May 19, 2006 at 16:21
Canciones nada espectaculares pero todas buenas y con un nivel parejo. Excelente la voz de Jamie Rowe. Los teclados y los riffs son buenos, me ha gustado el disco pero no creo que sea un clásico. Me gusta más la segunda parte del disco y claro "when a moments notice" que es un medio tiempo muy bueno. La instrumental es buenísima que comienza con unos teclados que recuerdan a una canción de Satriani y en sus punteos de esta canción recuerdan a P. Lesperance claro q no llegando a su nivel. 8.7/10
From: jmikep
Date: June 29, 2006 at 20:40
Lovin' this one... bought it on a whim after hearing so many good things about the band. Tracks 3, 4, and 5 are just beautiful pieces of rock'n'roll and a fine example of what's missing in the American rock scene today. This CD sought me to seek out the rest of their catalog, but neither of the previous two studio albums moved me, and they subsequently found their way out of my collection.
From: Metalmusicman
Date: December 11, 2006 at 14:21
As far as I am concerned, this is the best hing this band has ever done by far and my be one of the best of the year. Not really a piece of filler in sight and with monster tracks like "Tougher Than It Looks", "Long Gone", and "The Thin Line" this thing is a force to be reckoned with. I just can't say enough good things about this album. So recomended it hurts!!!
From: z4roxx
Date: January 23, 2008 at 13:11
Anyone has put these guys among the best bands of the new millennium?I do this,killer melodick hard rock with one of the finest singer in the genre,ballads are awesome and really emotional.10/10 to the band!!!
From: erik
Date: January 24, 2008 at 10:48
Hi Andrea ! I agree. Great album. Vic rivera is a great songwritwer. 9/10
From: 707STAR
Date: November 17, 2011 at 17:41
WOW. HOW COULD ANYONE WHO LOVES CLASSIC MELODIC ROCK NOT OWN THIS. THIS BAND IS TIGHT. POSITIVE MINDED ROCK. THEIR DVD IS KILLER TOO.
From: the rocker
Date: August 30, 2013 at 18:00
New AdrianGale(SUCKERPUNCH)coming at the end of September,pre order it now!
From: hair metal again
Date: February 3, 2023 at 12:51
excellent release once again for ADRIAN GALE a brilliant band that def continues from where the hair bands stopped in the early 90 s!massive commercial hard rock sound ,great performances ,remarkable songwriting ,every release of them is a must have!"last call","long gone","this time" and "crunch" are great songs indeed
---
You cannot leave comments for this CD because you are not currently logged in. Please click here to log in or create a Username for leaving comments.