THE Hard Rock and AOR Reference on the Internet!
Bands: 8681 CDS: 20578 Songs: 244332
February 6, 2020: "Best of 2019" lists have been posted
Come check out the top 5 picks from Mike, Jez, Pete, and myself, and add your own! -Dan

(Banner ads are FREE for bands and labels. Email me if interested.)
#s A B C D E F G H I J K L M N O P Q R S T U V W X Y Z
Compilations Soundtracks Tributes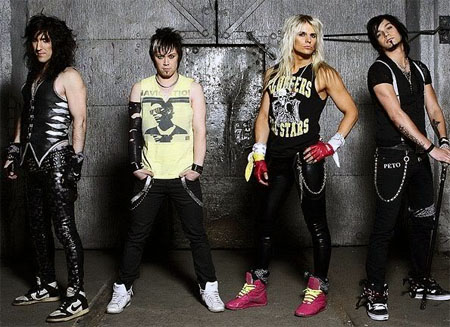 InVader
(click on Artist's name above to return to artist's main page)
Category: Melodic Rock

Year: 2016

Label: AOR Heaven

Catalog Number: AORH00129



Average Rating: 76 / 100 (11 ratings)

Ebay Average Price: $14.82

Personnel
Olli Herman vocals
Pepe Reckless guitars
Hessu Maxx drums
Jalle Verne bass

Tracks

| | | |
| --- | --- | --- |
| 1. | We Are the Weekend | |
| 2. | Hands | |
| 3. | Monster | |
| 4. | Child of the Sun | |
| 5. | Bullettime | |
| 6. | Scandinavian Girls | |
| 7. | Pretty Boy Swagger | |
| 8. | Rock It | |
| 9. | Destiny | |
| 10. | Let's Get Cracking Up | |
| 11. | Keep It Up All Night | |
If you see any errors or omissions in the CD information shown above, either in the musician credits or song listings (cover song credits, live tracks, etc.), please post them in the corrections section of the Heavy Harmonies forum/message board.
The music discographies on this site are works in progress. If you notice that a particular Reckless Love CD release or compilation is missing from the list above, please submit that CD using the CD submission page. The ultimate goal is to make the discographies here at Heavy Harmonies as complete as possible. Even if it is an obscure greatest-hits or live compilation CD, we want to add it to the site. Please only submit official CD releases; no bootlegs or cassette-only or LP-only releases.
EPs and CD-singles from Reckless Love are also welcome to be added, as long as they are at least 4 songs in length.
---
Existing comments about this CD
From: MetalllianStallion
Date: March 4, 2016 at 1:28
Many on HH go ga ga over these Finish dudes but they have never been my cup of tea. For starters the accented gulp of helium vocals are grating after a while. But on this album I think even their loyal fans will say the cheese has slid off their glam rock cracker. How do you go from '80s influenced glam/sleaze to synth-power pop? The opening track is exhibit A - "We Are The Weekend" w/lyrics "hey we're going all the way because we are now gay" with a capital "G". It get's worse with, move over DLR California Girls with "Scandinavian Girls". "Child of the sun" sounds something out of the WHAM/Pet Shop Boys era. Is it Bruce Jenn(DER) cock-less rock for a new generation?
From: Doghouse Reilly
Date: March 4, 2016 at 8:31
Oh man ... that bad, huh? Finally drowning under a tsunami of Cheez Whiz? The indicators were always there. Why can't these Scandinavian bands get it all the way right, with the exception of certain Hardcore Superstar albums? "Badass" is the only RL song that remains on my phone, and with that said, any time it comes up on shuffle, I turn it up LOUD! If they could only string together ten "Badasses" ...
From: CC
Date: March 4, 2016 at 13:47
Oh surprise surprise, MetallianStallion comes in with his usual gender/sexual orientation insults.. What I don't get is if you don't like a band, why continue to listen to their new albums when they come out? I don't like The Darkness for instance, detest them in fact, and apart from catching the odd video posted here and there, I do my best to avoid listening to them. Something tells me you just love to piss and moan about stuff rather than praise what you do like. Synth power pop? You are deaf if you think that.
From: Doghouse Reilly
Date: March 5, 2016 at 22:25
CC: For me, I keep listening because I hear the potential in a band and I'm hhoping for them to finally break out. Sometimes they do (Black Stone Cherry, Bombay Black) and sometimes they don't. I won't be one of those people who only comment on stuff they like, and every release is "excellent," "superb" or "blow-minding" (sorry, I had to do it). If something sucks, I'll say so, but at the same time, I think I leave plenty of positive reviews. But bands gotta earn 'em--this is their job.
From: MetalllianStallion
Date: March 7, 2016 at 7:19
CC - one's mass trash is anthers treasure. Exhibit A: aren't you the same CC that gave the Tom Cruise movie 'Rock Of Ages" soundtrack (SHOW TUNES) a #100 rating along with Pretty Boy Floyd? I'm guessing you have NOT even listened to this release yet, as I got advanced copy before it comes out next week, so at least listen first before you light me up. Synth-pop = a genre of pop music that features the synthesizer as the dominant musical instrument. Exhibit A - "Child of the Sun" https://www.youtube.com/watch?v=XrurjKGqhk4
From: ROBERT
Date: March 9, 2016 at 17:42
Destiny, We Are the Weekend & Scandinavian Girls my Super favorites
From: aTomiK
Date: March 17, 2016 at 11:54
I have to tell you that i was a little worried before i listened IV but what the hell, this is a monster party rock album! Just what the doctor ordered, even with the extra silicone and everything ; )
From: Swedish Rocker
Date: April 16, 2016 at 6:22
Disappointing album. Some decent songs, but nothing that comes close to the best songs on previous albums. Most of the time it's just some boring fluffy, toothless pop-rock. This band needs to make up their mind about what kind of music they want to play.
From: Axe Slinger
Date: April 16, 2016 at 15:18
Unfortunately, I feel the same. For me, RL does have a lot to like when you add all releases together but there is a lot of fluff / filler that just keeps them in neutral for me. Most of it is lyrical. I just can't get into a lot of the songs simply because of the lyrical content. I do like Ollie's vocals and Pepe's guitar abilities but they just need to up their game a bit.
From: CC
Date: July 3, 2016 at 17:10
Oh MetallionStallion, once again you prove your ignorance. Of course I listened to it before commenting, I would guess you either did not listen to it yourself or you are tone deaf. Yes there are some keyboards on some songs, and yes this is not their best work, but synth pop it is not. Just for the record this album was released here on March 4th, the day I received it, listened to it and commented on your moronic comment. And nothing stops the fact that your comments are always irrelevant because you consistently fall back on the narrow minded sexuality insults. The fact that one of the standard bearers of hard rock and metal, Judas Priest is fronted by a gay man, proves that the heaviness or lack of has fuck all to do with someones sexuality, but to you non heavy = gay. Grow up.
From: 123charpenay
Date: July 13, 2016 at 13:46
i ve a serious weakness for this exceptional finnish band even if on each reckless love s record there is always one or two fillers.on "invader" the fillers are track 3 and 10.the rest?.not at the same level than their two last extraordinary album but very great .for make short this new realise is at the same level than their debut album.this young band is very talented ,they are able to play high quality hard rock,hard f m ,a o r ,party rock ,arena rock.reckless love are never boring.this new album is like always fresh,well produced and very varied.a real pleasure.the japan import is absoluty essential cause track 12 "zoo" the jap bonus track is a real hit.a killer song ,the best of the record.if you re fan of this amazing finnish band don t hesitate:buy buy buy!!!!!!!!!!!!!!!
From: Doghouse Reilly
Date: July 13, 2016 at 22:28
I know I've been critical of Reckless Love, and I stand by that now, but I will say, when they're on, they're ON. THey're just on less and less with each successive release. InVader isn't as bad as Stallion says, but it does have a few bad spots, mostly in the middle. "Child Of The Sun" finallly gives up a coool guitar break almost three minutes in, but Olli squeals and giggles over it, and the song itself just plain doesn't rock. "Scandinavian Girls" and "Pretty Boy Swagger" are the other two worst offenders, plus the "This Is How We Party" section of "Let's Get Cracking." There's a fair amount of electronic/synthesized sounds, but you could hear that coming as early as "Dance" on Animal Attraction, or even the remix of "Back To Paradise." Olli's rapping is as awkward as a bro-country singer's, but "We Are The Weekend" and "Monster" are fun, carefree songs.
From: Doghouse Reilly
Date: July 13, 2016 at 22:36
"Hands," "Bullettime," "Destiny," and "Let's Get Cracking" proper are all typical riff-tastic Reckless Love, but my favorite song this time out is actually "Rock It." This band is just so frustrating: the talent is clearly there, both in the blazing guitarwork and in the melodies and jsongwriting. But they are just unable to keep it together for a full album. On InVader, the vocals are mixed way up front, which makes Olli's accent, frequently stupid lyrics, and sometimes odd syntax impossible to overlook. The band's best release remains the self-titled, by a country mile.
From: rick kerch vzla
Date: July 16, 2016 at 13:03
Is this a Justin Bieber album???...quite dissapointing to be honest and for me is hard to say it because this act had caught my attention since they came out because of their catchy Glam Rock/AORish sound but in here i think they've lost their direction into a ONE DIRECTION way ...some songs are ok like "Bullettime","Rock It"(some Def Leppard in here),"Scandinavia Girls"(AORish Pop),"Pretty Boy Swagger","Destiny"(catchy modern AORish) & "Let's Get Cracking"(probably the "best" cut in here)...hope for next release they come back to its roots...55/100
From: 123charpenay
Date: July 21, 2016 at 13:52
to doghouse yes even if english is not my language i know that reckless love s songs have often some very simple and stupid lyrics.it s not a surprise don t forget that at the base they plays party rock.in this kind of music lyrics are not intellectual.they speaks about girls,rock n roll,alcohol ect ect.
From: 123charpenay
Date: July 21, 2016 at 13:58
to rick wow exceptionnally for one time i m not agree with you.you are very severe.i ve never heard in the justin bieber s "music" riffs and guitar s solo at the level of reckless love.justin bieber is a poor clown, a poor marketing stuff for young girls wich have absoluty no taste in music.i admit that invader is not their best record.animal attraction and spirit are far better.nevertheless invader is a great cd.
From: Doghouse Reilly
Date: July 21, 2016 at 21:53
You're right, of course. We shouldn't look to this type of music for lyrical brilliance. It's kind of a no-win deal with a band whose native tongue isn't English: you can either take the easy road and do the really predictable love/above, together/forever stuff, or you can be like Hardcore Superstar does a lot of the time, and try to be more creative with the words, but then they don't make much sense. In the case of InVader though, the vocals are mixed pretty high, so it's hard to ignore. As for RIck's Bieber comment, I can hear what he means in a few places. Take the verses of "Monster." Yeah, there's a cool riff, but that part that goes, "And I think she's like a demon aphrodisiac, I wanna see you shakin' that, shake that thing, shake that thing ..." That sounds like a Bieber-style pop song, just with hard-rock guitars under it.
From: MetalllianStallion
Date: August 2, 2016 at 23:34
@CC- first order of HH business is that I nominate YOU as the LBGT Watchdog to monitor/delete offensive tranny/homosexual comments. Shall we take it to the boards for a vote? CC is the type of guy who at a pubic bathroom in the next stall over tells you that your shit stinks while he's taking a dump. CC has a stick up his ass (no Rob Halford pun intended) as the word "SARCASM" must have skipped his generation. Look at this joker's comments on FOZZY albums (everything is personal). It's like the guy who cries after his NFL team loses (big emotional investment). Wild guess that HH patrons are 99.9% WHITE heterosexual men (mostly blue collar) so if you can't be NON-PC here, where else is left? Doghouse with 5 comments and counting you may have to start your own "InVader' thread on the boards. Bieber vs Reckless love PROS/CONS, as if the Rickster calls this release wimpy I think that makes it written in stone with most of the regulars. This band has always been lost in translation to me.
From: Doghouse Reilly
Date: August 3, 2016 at 11:50
In America in 2016, there seems to be a real confusion about the difference between political incorrectness and just being a straight-up dickhead. Funny how we all reserve our OWN right to be offended, but everybody else should lighten up and appreciate our "sarcasm." Before you go wagging the finger at others for being too easily offended, you might want to remember who tends to get his feelings hurt if anything smacks even remotely of religious blasphemy or "excessive" profanity. Combine your obvious faith with the frequency your musical commentary heads down the ol' Hershey Highway, and I don't need a Ph.D. to figure you've got a bit of a "thing" about gays beyond just doing what WHITE heterosexual blue-collar males do. (Any particular reason "white" is in all caps, by the way?)
From: MetalllianStallion
Date: September 3, 2016 at 6:53
Deputy Doghouse is hot on my Aryan scent, painting the picture of me as a religious zealot from Westboro baptist church with a "God hates fags" sign. I forgot to add a 卐 POWER to my capital WHITE letters. (don't tell my Jamaican girlfriend). Thanks for keeping my white privilege in check. It's very common, in fact it's on Urban dictionary that using the term "GAY" = dumb, stupid,ect. with no sexual preference affiliation. For example all those dudes I see wearing their hair in a MAN BUNS = GAY for goofy fashion sense. Same goes for the lyrics of this band, as I obviously haven't researched their sexual tastes. You may not have noticed, but the media pounds Americans feeble minds daily on what to think, how to act, what to buy, hence making PC PUSSIES in mass afraid of their own shadow, especially the 35 and younger generation "P". I've been on this site for over a decade so if I have what you call " A THING" for directly bashing homosexuals then find me just ONE exhibit A on HH
From: MetalllianStallion
Date: September 3, 2016 at 7:16
(CON'T)Dept Dog, I would have preferred you went down the "Heresy Highway" instead of Hershey, but to each his own. You would think with my FINGER WAVING as you put it I was quoting Bible verses and casting out apostates on HH. To my recollection in all my years here the only Christian references I have made is on CCM releases about any of my spiritual beliefs. As far as language the last time I brought it up was on Steel Panther, just because it's so over the top as others have made the same comments to being annoyed, without any MORAL judgment. Personally my policy says save the F Bomb to use when you really need it. The word is so over used in ever day use now it has no shock value. Show me someone who strings endless profanity together in daily conversations and I will show you someone who lacks substance (depth) in most cases. George Carlin is an exception, as he made an art form of profanity and was brilliant. Look up " SOCIAL ENGINEERING" and how it effects peoples mindset.
From: 123charpenay
Date: September 3, 2016 at 16:36
my english is not enough strong for understand precisely the problem between metallian and doghouse.the sexuality of the guys of reckless love have absoluty no importance.i m fan of melodic rock since the seventies (the first lp i ve listen are "slade" and "the sweet").the lone thing i see is very simple:when i listen a cd of reckless love i m happy, i love this band, their music even if on each realise there is some fillers.their records are a hot nice flash.
From: 123charpenay
Date: January 9, 2017 at 13:42
best bonus track of the year 2016 "zoo" track 12 (japan bonus track).
From: the rocker
Date: January 9, 2017 at 19:09
I need to find that song! Zoo is the name of the song?
From: 123charpenay
Date: January 10, 2017 at 14:07
hello the rocker yes "zoo" is the name of the song.you can hear 45 seconds on cd japan.greetings from france.
---
You cannot leave comments for this CD because you are not currently logged in. Please click here to log in or create a Username for leaving comments.