THE Hard Rock and AOR Reference on the Internet!
Bands: 8316 CDS: 19612 Songs: 232443

(Banner ads are FREE for bands and labels. Email me if interested.)
#s A B C D E F G H I J K L M N O P Q R S T U V W X Y Z
Compilations Soundtracks Tributes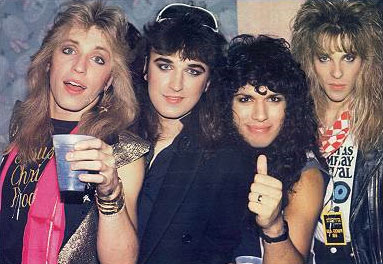 God Damn Evil
(click on Artist's name above to return to artist's main page)
If you see any errors or omissions in the CD information shown above, either in the musician credits or song listings (cover song credits, live tracks, etc.), please post them in the corrections section of the Heavy Harmonies forum/message board.
The music discographies on this site are works in progress. If you notice that a particular Stryper CD release or compilation is missing from the list above, please submit that CD using the CD submission page. The ultimate goal is to make the discographies here at Heavy Harmonies as complete as possible. Even if it is an obscure greatest-hits or live compilation CD, we want to add it to the site. Please only submit official CD releases; no bootlegs or cassette-only or LP-only releases.
EPs and CD-singles from Stryper are also welcome to be added, as long as they are at least 4 songs in length.
---
Existing comments about this CD
From: MetalllianStallion
Date: May 20, 2018 at 1:34
Stryper said this would be their hardest album to date, and I guess it is, but it's hit and miss."Take It To The Cross " pacing is herky-jerky (falsetto-fanatic chorus) and it's a misfire out of the gates. Not sure if it's because of all of Micheal Sweet's side projects, but this album sounds rushed and the melodies and hooks just aren't there. This is also bassist Richard Perryman's first album with Stryper. At first look I thought it was the original bassist with a WIG. Favorite track/message is "The Valley". Move over SLAYER, Walmart actually banned this CD from their stores. I'm guessing for the title. In the era we live in where Google/FB/Big Brother will decide what is appropriate for you to view. All you have to do is minimal research to find that the elite who run the world (Media,Govt,Banking Cartel) are the "father of LIES" Look at the daily headlines, what once was up, is now down with the Zionist agenda shoved down our throats. (consume, think, believe) Yes master.
From: Doghouse Reilly
Date: May 20, 2018 at 13:09
Actually, your new title is the Alex Jones of HH. You can pin the blame squarely on the morality police of the good Christians at Walmart rather than any shadowy elites you read about on InfoWars. They've been deciding what's suitable for their tender shoppers for decades, so don't give me your veiled (Zionist/banking cartel/etc.) neo-Nazi shit. They apparently didn't pick up on the word spacing in the album title. They just heard "goddamn evil," and deemed it blasphemous. I find it entertaining that Michael Sweet spends as much time defending the band against his fellow Christians as he does against the heathen masses (see his own comments regarding this present flap, and the "controversy" over the secular songs on their covers album).
From: MetalllianStallion
Date: May 27, 2018 at 8:03
Deputy Doghouse with comments about "veiled" "neo-Nazi" your trail of conspiracy clues makes me out to be closer to 卐 David Duke. You also forgot Russian operative and HH infiltrator. Pumpkin Head Jones, with a face for radio and a voice for text is a big on Trump and they are BOTH heavily Pro Israel aka Zionists which has multiple meanings depending on who you ask. Zionists and Neocons go hand in hand and are of all races(Cheney,Bush, Joe Biden,War hawk John Bolton). He got us into Iraq, Afghanistan, still there for 18 years, and now Syria and Iran are next. We sent American troops aka Freedom fighters to die and kill 500,000 innocent children and who knows how many more millions in collateral damage. The War Machine is still looking for those weapons of mass destruction. Maybe their in Iran. Now back to what my little jag actually was about. Walmart just like it's big brother Amazon's only God is $ as they are both known to treat their employees poorly along without a living w
From: MetalllianStallion
Date: May 27, 2018 at 8:31
(con't) wage. I'm sure Stryper's release wasn't presented to the Walmart PMRC board for review. It's all automated which was my point. Not sure if you caught the news where many people have had their youtube accounts,FB,Twitter (shadow banning) taken down basically for their politics. On Amazon.com last year some Rabbi called Bezos and gave him a list of thousands of books he wanted banned based on the basis of antisemitism. Amazon said yes sir consider done faster than Trump to Netanyahu. Meanwhile you can buy books on how to a pedophile, that's not flagged. You can see the slippery slope of free speech is headed with the ADL/SPLC the official hired guns on FB and Youtube to deem what is appropriate content with certain flag words set to trigger deletion. Back to Styper, I guess there has been a big dust up with them firing their bass player and hiring ex FIREHOUSE bass player to fill the void. I remember Jerry Farwell was a big critic of Stryper, until the miracle man got busted
From: MetalllianStallion
Date: May 27, 2018 at 8:37
(con't) with his pants down with a hooker.These TV evangelists, most of them Benny Hinn, Joel Osteen,ect are con men. STRYPER FRONTMAN MICHAEL SWEET ON RELATIONS WITH FORMER BASSIST TIM GAINES - "IT WAS A NIGHTMARE" "My recent demise within the Stryper camp came about because I actually have testicles. I stood my ground when I was told to give up the woman I love, (who is now my wife) or get fired. I threatened to sue. I was "conveniently" fired 10 days after my marriage to Brandee, on the grounds that I made some posts threatening to sue the band for wrongful termination. They called it "threats". "My recommendation to (guitarist) Oz (Fox) and Bob (drummer Robert Sweet)? Grow some balls and stand up to that pathetic one (presumeably Stryper frontman Michael Sweet) and his conniving wife, or just continue to live a life of mediocrity. http://bravewords.com/news/stryper-frontman-michael-sweet-on-relations-with-former-bassist-tim-gaines-it-was-a-nightmare
From: Doghouse Reilly
Date: May 27, 2018 at 15:26
Without responding to your entire manifesto (some I agree with, some not), I'll just explain the "neo-Nazi" comment. "Zionist" and "banking cartel," among others, are just dog-whistle terms for "Jews." You can try to steer me to all the unsourced crackpot documentaries you want, but it does appear you got a thing about those Jooze, in addition to your other hang-ups.
From: BDrums1971
Date: May 28, 2018 at 20:44
MetallianStallion, I see you are awake to who really runs things in this world. Good for you. And alex jones? If you haven't figured it out by now, he is a gate keeper. He has some good info, but only goes so far and has a very disruptive personality. By the way, Doghouse, if you do some research you will find that most Zionists and high level bankers are jews. It's just a fact. Now, Stryper who? Oh yeah, kind of got a little off topic there didn't we? Hehe.
From: Doghouse Reilly
Date: May 29, 2018 at 14:51
Yeah, how strange that the smiley, marshmallow-roasting, Vacation Bible School rock of Stryper could lead to these conspiratorial whispers ... or maybe not. "Alex Jones has some good info, but he doesn't go far enough." Might as well get "I'M A KOOK" tattooed on your forehead. Then you can do some research on how Jewish people were ostracized and scapegoated across Europe for centuries, denied the right to own land, etc., until about the only thing left was to take up those trades with which they became stereotypically associated with out of necessity. Then you and the Stallion can go lift weights together in the compound.
From: Doghouse Reilly
Date: May 29, 2018 at 14:56
Then you can make s'mores and lift your voices higher, 'cuz we want to hear you sing, whoa-oh-oh, la la, whoa-oh-oh, la la ...
From: MetalllianStallion
Date: June 3, 2018 at 0:42
Doghouse,I hereby decree you the Mr. Maddow (MSNBC) of HH, aka Mainstream Media Mini-Me (M-4). Wind him up and listen to him squawk.. "racist" "neo nazi" "Hitler" "antisemitic" "crackpot" "kook" "white supremacist". Does this make me the 'TRUMP' of HH as that's all the media has been regurgitating for the last 2 years. The only resemblance to facts instead of your social justice warrior character assassination technique is mentioning "unsourced" (cited sources) which of course you give none. Reality check quiz, who are the biggest murderers in the last century and who is the most persecuted group today? That would be "Communists" with their official belief system of the state being the same as yours "ATHEISM". which has murdered over 100 million souls in Russian,Ukraine, and China, many of them Christians. Check the source of Encyclopedia of Wars by Charles Phillips. Documentation of all "wars" in the recorded history of the world attributed to religion being the cause are at 3%.
From: MetalllianStallion
Date: June 3, 2018 at 0:53
Christians continue to be the most persecuted group across the globe. The Center for Studies on New Religions, determined that 90,000 Christians were killed for their beliefs worldwide last year. This doesn't include of course all the millions of souls caught in the crossfire from wars that the US & Israel is starting all over the middle east and the world. Liberal use to stand for liberty (libertarians), now it's evolved into a leftist "progressive" cult which preaches "tolerance" as long as you believe what they do. I guess you have never heard of "Christian Zionists" as there are millions of them with fanatical support of Israel. In fact you might have something in common with these folks, the elimination of free speech. The South Carolina Senate just passed a Landmark bill restricting ALL criticism of Israel based on antisemitism. In fact there are people who have been put in jail in Canada and Europe just for that "thought/speech crimes. Is Edward Snowden a crackpot for exposing
From: MetalllianStallion
Date: June 3, 2018 at 0:57
our Govt. crimes against the people? Criminals are of all races. If I criticize an Italian guy because he is in the "mafia" does that make it racist? It would be unfair to say "all jews" in any sentence just like any other race. In fact DNA evidence shows that Ashkenazi jews, who are 90% of all jews on earth, DNA comes from Khazar(Eastern Europe), not ancient Israel. Just as my compound work-out buddy pointed out there are very powerful jews in banking and other positions in the world. The Rothschild family being one of the biggest. Then there's George Soros (Marxist), who isn't the Devil, he just works for him. Speaking of Nazi, Soros said in a 60 minutes interview, when as a teenager he was a Nazi sympathizer and called rounding up his fellow jews in the camps, " The best time of my life". It's a vast subject, but as I said before if you want to have a actual respectful debate then do the research on your position and we can take it to the boards to separate FACT from fiction.
From: MetalllianStallion
Date: June 3, 2018 at 2:01
Finishing off on a Stryper note. R. Perryman (Ex-Firehouse), posted he was a Christian, so there was no need for Sweet to call Bob Larson for a exorcism before joining team Bumble bee. That got me thinking I wondered if one of Doghouse's favorite MHR band's where Christians? I pulled up a interview with CJ Snare and here's his answer "Q: Ok… if you could spend an hour with anybody, living or dead, who would it be and why? A: CJ Snare " Oh my God! I'd have to say Jesus Christ so I know I truly believe! to spend an hour with him would be pretty cool!" Please don't run screaming after reading this and throw all your Firehouse CD's in a BrutalMetal "HAIL SATAN" 'REACH FOR THE SKY' FIRE to appease to your dark Luciferian band lords. Based on your race bait response skills, if only you spent as much time studying/reading REAL history as you do investigating the personal lives of your favorite legion of death,doom, bands. Man cannot live by weed, Junior college, and hacky sack alone.
From: MetalllianStallion
Date: June 3, 2018 at 2:06
@BDrums1971 -There are allot of assumptions based on you just mentioning Alex Jones and jews. First are you a Christian, a Stryper fan and are you a pure White privileged male? Funny most evangelical Christians refuse to criticize Israel, but Deputy Dog-house isn't easily thrown off the Aryan scent of Christian racism(it's everywhere). Did he have recent Starbucks racial sensitivity training? I think you are spot-on with your assessment of Alex Jones. Some would even say he's a Zionist shill aka disinformation agent. When Hilary mentioned him by name in the 2016 election he has become of the face in the media for all things deemed "CONSPIRACY" related. Jones has turned more mainstream and become a Trump can do no wrong lapdog in recent years. But this is the same guy who sneaked into Bohemian Grove showing how the elites idea of a good time is the 'Cremation of Care' sacrifice on video. There's a interesting debate you can find online of him and David Duke from a couple years ago.
From: Doghouse Reilly
Date: June 3, 2018 at 14:30
That's right. I stereotyped you. How'd you like it? Talk about winding somebody up. By the way, you brought up Trump, not me.
From: Doug
Date: June 4, 2018 at 16:31
Back to the music, already!
From: metalmaniac777
Date: June 16, 2018 at 17:30
Like a stripper at Sunday school, this album title from "the holy bumblebees" really rubbed some people the wrong way, but hey, I'm just here for the music. And musically, this mirrors most of Stryper's recent output, meaning there are good songs ("Sorry") mixed with some godawful ones ("Sea of Thieves"). Seriously, this album is just begging to be cherry-picked on iTunes. Sonically it sounds pretty damn good, with beefy production that doesn't sacrifice the clean melodies the band trademarks in and allows Mike Sweet to wail away with that voice of his. Basically, it's Stryper doing what Stryper does--including pseudo-swearing album title--and there's really nothing more that needs to be said.
---
You cannot leave comments for this CD because you are not currently logged in. Please click here to log in or create a Username for leaving comments.